Emilie
"THE CONDUCTOR"
« As for the future, your task is not to foresee it, but to enable it. » Antoine de St-Exupéry.
Emilie "LA CHEFFE D'ORCHESTRE"
Emilie a plusieurs vies. Vraiment. Vous ne nous croyez pas ? Eh bien vous avez tort ! D'ailleurs, il n'y a qu'à jeter un coup d'œil à son CV pour en avoir la preuve. Un CV pour le moins original, avouons-le. D'abord, notre québécoise a débuté sa vie professionnelle en fanfare. Ou plus exactement en symphonie. Musicienne, elle a effectivement parcouru la province de Québec en jouant au sein de différents orchestres. Sillonner ainsi les routes l'a confortée dans son envie de voyager. Et de relever des défis. Ainsi s'est-elle présentée au barreau du Québec... et est tout simplement devenue avocate. On imagine aisément sa rigueur et son goût du détail ! Ce qui, chez Corsica Events, ne nous a pas laissés indifférents. Pour cause ! Lorsque nous agençons le programme d'un séminaire, d'une convention ou d'un incentive en Corse –, Emilie le passe à la loupe. Rien ne lui échappe ! Nunda ! Nothing !
Pardon... ? Comment en vient-on à quitter les plaines, le froid et la neige pour le soleil, les montagnes et la mer ? Par amour bien sûr ! L'amour d'un homme, dans un premier temps. Puis d'une terre, la terre de Corse. Un amour si fort qu'Emilie n'est plus jamais repartie de l'île, et ce depuis dix ans. Un amour qui l'a conduite à s'aventurer sur une nouvelle voie, la voie du tourisme.
Emilie, vous l'aurez compris, est de ces personnes qui croient que tout est possible, du moment que, comme elle, on sait allier passion, spontanéité et justesse. D'ailleurs, elle a fait sien l'adage de la team Corsica Events qui veut que... « Everything is possible ! »
Le conseil d'Emilie : « Oscar Wilde l'assurait, « les autres sont déjà pris ». Soyez donc vous-mêmes et votre événement d'entreprise en Corse vous ressemblera. »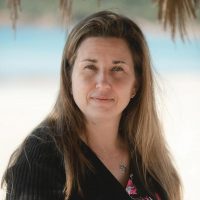 Emilie "THE CONDUCTOR"
Emilie leads several lives. Really. Don't believe it? Well, you're wrong! Just look at her CV for proof; it's nothing less than original. Our Quebec-born star started her professional life to a fanfare. Or, to be more precise, a symphony. As a musician, she travelled across the province of Quebec playing with different orchestras. Being on the road strengthened her resolve to travel and overcome challenges. So she turned up at the Bar of Quebec…. and, quite simply, became a lawyer. You can easily imagine her resolve and taste for detail! This was not lost on us here at Corsica Events. For good reason! When we organise the programme for a seminar, convention or incentive in Corsica –, Emilie scrutinises it. Nothing escapes her! Nunda! Rien!
Excuse me...? What would make someone leave the plains, cold and snow for the sun, mountains and sea? Love of course! Initially the love of a man, then of a region – that of Corsica. A love so strong that Emilie hasn't left the island for more than ten years now. A love that led her to explore a new path – that of tourism.
Emilie, as you've no doubt come to understand, is one of those people who believes that anything is possible once – like her – you know how to combine passion, spontaneity and justice. She's really taken on the adage of the Corsica Events team... "Everything is possible!"
Emilie's advice: « As Oscar Wilde confirms, "everyone else is already taken". Be yourselves and your corporate event in Corsica will reflect you ».
Anne-Catherine
"THE NUSTRALE"
« If you want the Corsicans to listen to you attentively, then do not give the impression of thrusting your ideas on them. » Pasquale Paoli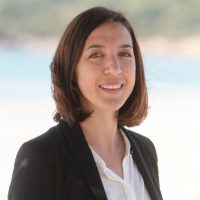 Anne-Catherine "THE NUSTRALE"
Anne-Catherine is a "nustrale", or rather, an inhabitant of the island. One of those people who can sincerely laugh at the jokes about Corsicans… provided, of course, that it's her who's telling them! You have been warned! Also avoid asking her to sing a paghjelle [a traditional Corsican song] if you want the sun to shine during your incentive, team-building or seminar in Corsica. Better still: if you see her with her hand against her ear, escape as fast as you can !
However, don't believe that Anne-Catherine is the "enfant terrible" of Corsica Events! She's very attached to the island where she was born and knows how to be very convincing: you should hear her arguing about meeting times with service providers who balk at leaving their everyday life as artists or farmers! She really puts her heart into things with passion and enthusiasm, the end result being that everyone ends up giving in to her… but without ever regretting a thing.
Firmly rooted in Corsican soil – like a chestnut tree in the Castagniccia region – she knows almost every nook and cranny, path and beach. One or two sites may have escaped her insatiable curiosity but, sooner or later, she will ferret them out and will then be pleased to take you there.
For Anne-Catherine, being a nustrale means being committed. Putting her convictions at the heart of her job. It means personalising every corporate event and making you feel and experience your life in Corsica as she herself feels and experiences it.
For over ten years, Anne Catherine has been our compass – a compass that never loses north. Not even when under pressure. Stress is something she uses wisely. Convinced that every task depends on our faith in our success.
Anne-Catherine's advice: « A successful event is one that has been performed a l'usu corsu (in a Corsican manner), for which passion and experience are required. It's a little like the jokes about Corsicans – let us tell them, as that way they will be funnier… »
Tamara
"THE PERNICKETY ONE"
« Give a girl the right shoes and she can conquer the world. » Marylin Monroe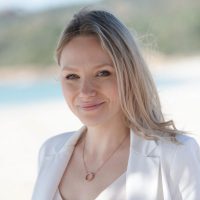 Tamara "THE PERNICKETY ONE"
Regarding the question of shoes, Tamara will find that she has problems conquering the world. This is a young lady who swears by her heels. In the office, she even hides them in her drawers! "Always be ready to welcome our clients" she says to those who dare poke fun at her "heel-mania". However, she is not wrong: at Corsica Events, we are always ready to welcome you as one should. Just as we are always willing to study your requests with our utmost attention. For this, you can also count on our young Ukrainian. Detail is almost an obsession for her. In fact, it is an obsession! The welcome gift? Scrupulously thought through and pondered. The colour of the table settings? Considered for a long time. The schedule of the gala dinner? Skilfully worked out. We could almost imagine her spending hours at the service station examining the tyre pressure of your vehicle to the nearest millibar !
Should we tell her that she sometimes exaggerates? Don't go there! Her obsessive nature would quickly leave us standing! Now in Corsica, she's adapted quickly and easily to the abrupt and stubborn temperament of the islanders. Avoid making any allusions to her accent, which is still so very charming, even if you feel an urge to flatter her. Convinced she speaks French with a true French accent, Tamara is hyper-sensitive on this point !
Tamara's advice: « If you're concerned about detail, do not hesitate to entrust us with your corporate event! We look forward to speaking with you tomorrow at around 27 minutes and 8 seconds past one (or should we specify this to the thousandths of a second?) »
Camille
"THE GLOBE-TROTTER"
« To stay is to exist. To travel is to live. » (Gustave Nadaud)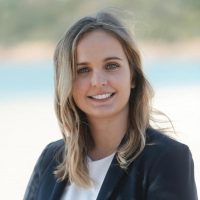 Camille "THE GLOBE-TROTTER"
Camille? She is the team's globe-trotter. Always on the go (note: she sometime nudges the 200 km/h mark) up hill and down dale. You may even have crossed paths on a detour from a road in Corsica. This is now where she travels, criss-crossing the roads to meet you and explain how your team-building session, seminar or meeting will be conducted.
Before Corsica, Camille was already travelling the world. As a child, she followed her expatriate parents, based in Morocco, on their travels. Her hospitality studies even led her to China! She thus knows aeroplanes like the back of her hand (we wonder whether she was best friends with the pilots) and the island's twists and turns do not faze her at all !
As soon as she has the opportunity, she's off gallivanting to discover new ideas and meet new people. It is for this reason that she chose the island of beauty. Corsica is particularly well off in this respect.
Camille is therefore a go-getter who thrives on the pace of challenges and opportunities. You will not be surprised to hear that there is no lack of challenges facing us at Corsica Events!
Also, when we have to look for something, Camille really searches. When we have to be inventive, she mulls things over. When we have to explain, she provides all there is to know. She even lists all the beauties of this land and the people populating it, down to the smallest details. When it comes to being convincing, Camille knows how to present her arguments. And above all, if you have to be met somewhere, our globe-trotter will come running immediately.
A small piece of advice from Camille: « There's not a second to lose; don't delay and choose Corsica for your corporate events! »
Paola
"THE HYPER COMPETITIVE"
« Don't fear failure. — Not failure, but low aim, is the crime. In great attempts it is glorious even to fail. » Bruce Lee
Paola "THE HYPER COMPETITIVE"
Paola does not fear failure. She simply banishes it from her mind, vocabulary, life and day-to-day work. Just as well – your corporate event in Corsica cannot fail! This would be un-think-able! Paola would rather move heaven and earth than give up on what is best for you.
Don't delude yourself though – she would prefer to juggle with figures. She believes that they hold the truth – the real key to performance. This is something of a consistency for our friend (she isn't called PI 3.14 for nothing). A consistency that means she never loses sight of targets. Nor… her beloved calculator, which she takes everywhere with her. Even on location, when she grants herself a "break" to sharpen her team spirit or satisfy her desire for adventure.
You should see her during these periods! More determined than ever before to make your incentive or team-building in Corsica a successful and unforgettable experience! We personally believe that she's found her vocation and that her years of medical, commercial, equestrian, aviation and hotel ambitions have led her to where she should be – with Corsica Events.
To sum up, Paola equates to 57 kilos of competitiveness and 1.75 metres of meticulousness, with the ability to adapt. Are you saying she's a featherweight? On the scales perhaps, but within the Corsica Events team she's worth her weight in gold.
Paola's advice: « Never lack ambition! Assess it, measure it out and even plan it. Make it the driving force of your event and you will see that you will outdo your own ingenuity »
Amira
"THE PRINCESS"
« Believe in your dreams and they may come true. Believe in yourself and they will come true. » Martin Luther King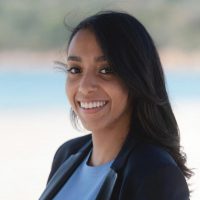 Amira "THE PRINCESS"
Of course Amira believes in her dreams! Just as she believes in sharing, generosity, the power of technology and social networks. And that's not all: Amira exudes confidence – in herself and in Corsica. She's like that, our Miss: a bit dreamy, extremely confident and hyper determined! But also hard working, dynamic, spontaneous and full of incredible joie de vivre. What more is needed to boost the Corsica Events team!
Amira was only 20 years old when she joined the Corsica Events team. This was a few years ago as part of an end-of-course internship. Having successfully passed this stage we could not allow her to slip away. Out of the question! We cannot disregard a graduate (the lady is the holder of a BTS [advanced vocational diploma] in negotiating and customer relations and also has a professional bachelor's degree in commerce) nor can we deprive ourselves of such a ray of sunshine! Her smile is somewhat contagious and we quickly became addicted.
And did you know that Amira means "Princess" in Arabic? Believe us when we say that this first name is eminently suited to her! We should point out that we're about to rename her the queen of "tourist titbits": the latest trendy sites, "must visit" restaurants, best looking male and female shepherds, best figatellu, most unusual accommodation – in short, anything that can make your experiences and events in Corsica unforgettable !
Amira's advice: « Corsica is a dream destination! There is no better place to boost and reward your teams ! »
Quentin
"THE SCHOLAR"
« If "Time is the great art of man", youth nonetheless has its virtues. » Napoléon Bonaparte and Quentin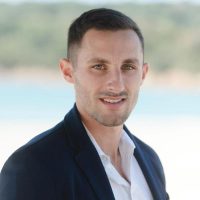 Quentin "THE SCHOLAR"
Quentin loves writing, and indeed writes well To be honest, we somewhat envy him his writing and the ease with which he produces programmes and reports. Literary journeys are his thing. They've thrown him into a vendetta, Mérimée-style, alongside Colomba and led him to discover Alexandre Dumas' Corsican brothers. This has given him an extraordinary knowledge of Corsica. Better still, these stories inspire him with astonishing ideas for your corporate events. Which ones? Shhhh! Come and give this adventure a go and you'll understand.
All the more so, since our friend Quentin will accompany you on your trip, his broad smile never fading, even as the night draws to a close.. He will make himself scarce when you want time to yourself; those renowned moments when teams merge and ideas burst forth and are exchanged. You might not see him, but he'll be there when you contemplate the sunset, visit museums and churches or launch yourself along a zip wire. Well… we cannot guarantee that he will launch into space. Or go with you on a parachute jump. But take note! We're not saying that the only male representative of the Corsica Events team is lacking in courage – far from it! Quentin is certainly courageous. Otherwise, how could he have made his way through all the gossip and slimming tips? Or pin his poor football jerseys to his office wall? Well… how ?
Quentin's advice: « Trust us and we will make you the heroes of your incentive, team-building or seminar in Corsica! »
Virginie
"LA DOLCE VITA"
« Se ami amore, dolce vita, verità, belle canzoni, simplicità e autenticità e poi combattere le avversità, allora vieni con me (…) »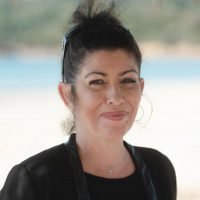 Virginie "LA DOLCE VITA"
Virginie and Corsica were made to be together: one and the same temperament, an iron will and a disconcerting strength to face the twists of fate. At the same time, how can you not have a fiery temperament when you are the daughter of a Sicilian father and Calabrian mother? An explosive mixture isn't it? We can now understand her stubborn and determined side. But you can fully trust her and ask her (almost) anything: she won't give up on the challenge until she has fulfilled your requirements !
As you might expect, Virginie does not lack confidence. And just as well, because she had to tackle the crocodiles in Africa (where she lived until the age of 7). As for the wild boar in Corsica – these are small game! And she shows no fear of rising to the challenges of Corsica Events! (Just to fill you in a little on her background, Virginie managed a construction company, a "virile" environment in which our friend felt like a piranha in the water).
But do not be mistaken: in reality Virginie is an unconditional lover… of life, beautiful songs, simplicity and authenticity. She can quickly anticipate and gravitate to the core of the matter. And above all, she loves Corsica (who wouldn't?) A love she shares without hesitation. As she looks out of the panoramic windows at the Radisson Blue hotel, she doesn't just contemplate the sea but, rather, bends over backwards – she will come up with the incentive or corporate seminar of your dreams.
Virginie's advice : « Forza! Show your rebellious spirit, free yourself from the chores of daily life and recharge your batteries in Corsica! »